Invisalign is a common alternative to braces in dentistry because it straightens teeth and aligns them perfectly without causing aches and pains.
It's an orthodontic product that's made of silicone and semi-transparent, so it won't make you feel self-conscious.
Most experienced dentists in the United States recommend Invisalign because it is nearly invisible and effective at aligning teeth without causing discomfort or embarrassment.
However, you must be aware of the essential aspects of this treatment before approving it. So, here's a rundown of what you should know about Invisalign before you get it.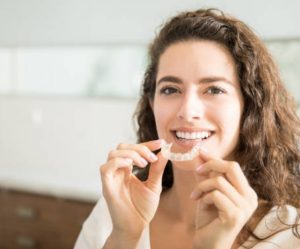 1. It's Faster Than Traditional Braces
The outcomes are comparable to those obtained with metal braces. People like them because they are almost invisible. Also, treatment time is reduced as compared to conventional braces. If just a few teeth are crooked, Invisalign will straighten them out in a matter of months.
To find out how long the operation will take and if you are a good candidate for the procedure, you can speak with an experienced orthodontist.
2. You Have To Wear Them All Day
To achieve the best performance, you must wear your aligners for nearly the whole day; meaning you'll have to wear them for a minimum of 22 hours a day.
As a result, you must wear them at all times, even while sleeping. You can only remove them while you're eating or brushing your teeth. They are made to suit your teeth perfectly so that you can wear them for long periods without discomfort.
3. You Have To Remove Them Before Meals
It is important to note that you cannot eat while wearing your aligners. You must take them out any time you take a bite of food. When wearing Invisalign, you can drink water.
Hot drinks, such as tea and coffee, should not be consumed because the heat will distort the form of the plastic aligners. As a result, stick to clean, cold water.
4. It Usually Come With Attachments
Dentists often add attachments to the aligner trays to speed up the restoration process. These are called Invisalign buttons and come in the shape of small buttons. They are not visible.
However, they are not needed for all patients. If you need them, your dentist will remind you. Small ridges may be required in some cases to keep the aligners in place. Every case is different, and the best person to decide if attachments are necessary is your dentist.
5. Refinement Process Is Essential
The majority of people believe that wearing aligners is the only aspect of the procedure. The technique, however, goes beyond that. After completing your aligner procedure, you will need to wear a retainer, which will serve as a post-treatment refinement process.
That will make sure that the desired and long-lasting effects are achieved and that the teeth do not return to their original location. The retainer would be custom-made to fit the outline of the aligned teeth and must be worn at night. During your first appointment with your dentist, he or she will tell you about them.
Final Thoughts
Invisalign transparent aligners are an excellent way to straighten the teeth without painful surgeries or unsightly metal braces. You must be mindful of the stuff listed above and obey the instructions to ensure that the treatment goes smoothly.