As an alternative to cow's milk, almond milk is a delicious nut-based drink that's perfect for using as a smoothie base. It's high in protein, crammed full of vitamins and minerals and tastes fantastic with a host of different ingredients. Whatever your diet, smoothies are always a good idea, offering a refreshing snack (or even meal replacement) and helping you get your daily dose of fruit and vegetables, even if you're in a hurry. Let's look at some tasty, healthy smoothie recipes with almond milk to suit every palate. Don't forget, you can put whatever you like in a smoothie as well, so it's easy to make one that's compatible with any kind of diet, whether it's dairy or gluten-free, vegan or raw foods based. All these recipes require is throwing the ingredients together and blending them until you've achieved your preferred texture, so give them a try today.
9 Healthy Smoothie Recipes With Almond Milk
1. Straightforward smoothie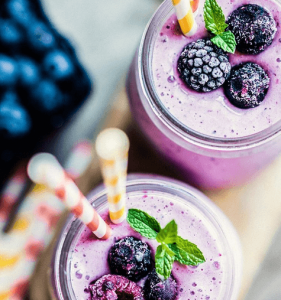 This is a nice, easy recipe that's perfect for people trying these for the first time. Fresh berries and low-fat Greek yogurt make for a creamy drink you'll want to prepare again and again.
50g blueberries.
50g strawberries.
100g low-fat Greek yogurt.
200ml almond milk.
2. Very berry
Give your body a dose of cancer-battling antioxidants with this tasty berry smoothie. The sweetness of the berries compliments the spicy beetroot notes, just make sure your beetroot is pre-prepared and soft.
40g cooked beetroot.
40g strawberries.
40g blueberries.
40g raspberries.
200ml almond milk.
3. Morning Boost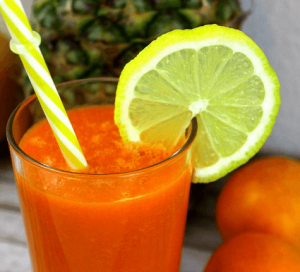 This high energy smoothie is just what you need to boost energy levels for a busy day. It's fantastically healthy and goes down a treat thanks to a subtle flavor provided by the lime and ginger
50g strawberries.
50g mango chunks.
¼ tsp. Grated ginger.
Dash of fresh lime juice.
Ice cubes.
200ml almond milk.
4. Wheatgrass infusion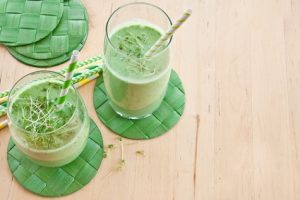 Wheatgrass is a powerful superfood with a lovely floral aroma. Bursting with antioxidants and vitamins, it makes a great base for a refreshing, high energy smoothie that still satisfies the sweet tooth.
A handful of spinach leaves.
1 banana.
10g powdered wheatgrass.
50g blueberries.
200ml almond milk.
5. Lot of chocolate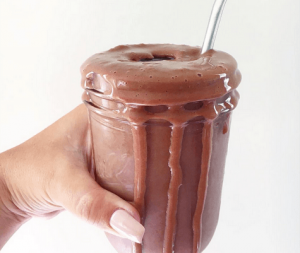 It's hard to enjoy chocolate when you're trying to watch your weight, but this low-calorie smoothie recipe with almond milk provides a healthy alternative that lets you have your cake and eat it too. Use raw cacao instead of cocoa powder for this recipe, as it contains much more vitamin and mineral goodness than the sweeter alternative. Don't worry, dates and honey give this recipe a delicious sweetness.
4 pitted dates.
2 scoops of cacao powder.
1 banana.
2 tbsp. raw honey.
200ml almond milk.
6. Avocado mashup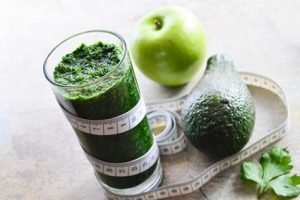 Avocado mash-up is another healthy smoothie recipes with almond milk. This drink makes the most of avocados and their incredible nutrition content. They have good fats that improve everything from heart health to a healthy skin, and the rest of the ingredients are also superfoods in their own right.
A handful of spinach.
A handful of chopped kale leaves.
½ peeled and pitted avocado.
2 tbsp. Raw honey.
50g blueberries.
200ml almond milk.
7. Pink lemonade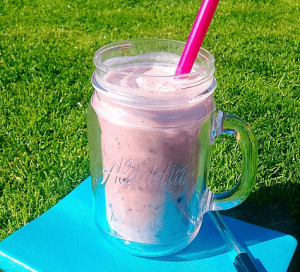 This smoothie makes the most of goji berries, one of the latest superfoods to take the world of healthy eating by storm. They're great for the immune system, and some studies have suggested that they help keep heart disease at bay as well. Combined with other summer berries and nourishing beetroot, this is a smoothie that will help you feel as good as it tastes.
30g raspberries.
40g strawberries.
30g cooked beetroot.
Three pitted dates.
20g goji berries.
200ml almond milk.
8. Mango and mint marriage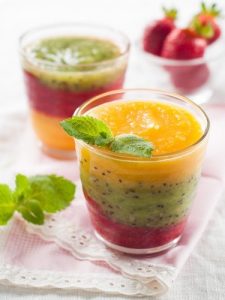 This delicious smoothie recipe with almond milk is one of the most refreshing you'll try and makes a great alternative to high sugar shop-bought juices and carbonated drinks you might fancy on a hot day. Mangoes have amazing natural health benefits. The mango ensures a beneficial energy boost and the fresh mint makes this smoothie taste even fresher.
60g mango chunks.
Ice cubes.
Sprig of mint chopped with stalks removed.
200ml almond milk.
9. Superfood cocktail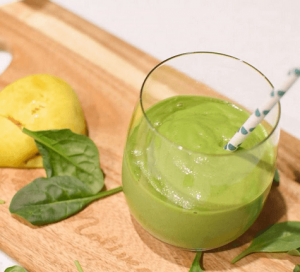 Utilising the powerful health benefits of spirulina and wheatgrass, this smoothie has it all when it comes to ensuring high levels of nutritional content. The antioxidant qualities of the ingredients are off the chart, and the fruits and vegetables will have you feeling fuller for longer if you're trying to lose weight.
10g spirulina.
10g powdered wheatgrass.
A handful of chopped kale leaves.
A handful of spinach leaves.
1 banana.
50g blueberries.
200ml almond milk.
DON'T GO WITHOUT READING THESE TOO:
Author's Bio
Benetton William is a popular writer and professional photographer. Around four months ago he created his own, informative website. William cannot live without traveling, self-improvement and sweet coffee.